BROUGHT TO YOU IN PART BY THE FOLLOWING. 
Iowa Heartland Credit Union
Mort's Incorporated in Latimer
Edwards Brandt Insurance
First Citizens Bank
Johnston Heating & Air
Hy-Vee of Mason City
Larry Pump CPA
Home Trust & Savings Bank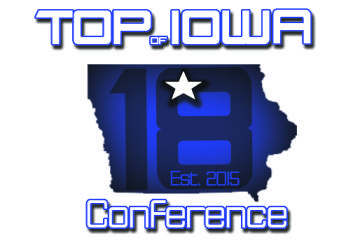 Saturdays February 4th and 11th — Iowa High School Sectional and District Wrestling
on AM-1490/96.7-FM KRIB and discovernorthiowa.com 
Hourly updates from Classes 1A, 2A, and 3A with sectional coverage on February 4th and district coverage on February 11th as north-central Iowa wrestlers try to make it to state. Sectional and District tournaments start at 12:00 noon, with updates running from 1:05-7:05 PM. Schools covered as part of our coverage:
1A Sectional 3 (at Eagle Grove)/District 2 (at Lake Mills) — Belmond-Klemme, Lake Mills, West Fork, West Hancock
1A Sectional 4 (at Nashua)/District 2 (at Lake Mills) — Central Springs, Nashua-Plainfield, Newman, North Butler, Northwood-Kensett, Riceville, Rockford, St. Ansgar
2A Sectional 16 (at Algona)/District 8 (at Webster City) — Clear Lake, Forest City, Garner-Hayfield-Ventura
2A Sectional 8 (at Charles City)/District 4 (at Iowa Falls) — Osage, Charles City, Hampton-Dumont
3A District 8 (at Waverly) — Mason City High
Iowa High School State Wrestling Tournament — Wednesday-Saturday February 15-18
on AM-1490/96.7-FM KRIB & AM-1300 KGLO and discovernorthiowa.com 
Join us for live play-by-play coverage of our area wrestlers at the nation's top high school wrestling tournament. Daytime coverage can be heard on AM-1490 & 96.7-FM KRIB with nighttime coverage on KRIB and select coverage on KGLO. Championship round coverage on Saturday night will air on both stations along with coverage of girls regional basketball.
= Wednesday February 15
State Duals — coverage TBA
= Thursday February 16
3A first round/first round consolations — 9:00 AM-12:00 noon — KRIB
1A first round/first round consolations — 1:30-4:30 PM — KRIB
2A first round/first round consolations — 6:00-9:00 PM — coverage details TBA with boys district basketball
= Friday February 17
3A & 1A quarterfinals, then 3A & 1A second round consolations — 9:00 AM-1:00 PM — KRIB
2A quarterfinals, 3A semifinals & third roud consolations, 2A second round consolations — 2:30-5:45 PM — KRIB
1A and semifinals & third round consolations — 7:30-10:00 PM — coverage details TBA with girls regional basketball
= Saturday February 18
All classes, consolation semifinals & finals (3A, then 1A, then 2A) — 10:00 AM-